MALIBU STRINGS
"For the uninhibited"
These are some photos of the Malibu Strings red and black transparent bikini. First, please forgive my horrible photo taking and placement. I've had so many issues with blogger and uploading photos that I've had to learn how to go HTML style! That is why they are placed strange. Now, my excuse for the not-so-great photos is that my camera was not being cooperative with me as it was hard to capture the unique colors of the bikini. I think I've gotten it across though. It's black transparent with red shimmer. The photos above are of the bikini top.
As you can see, the photo on the left is the full bikini top. It's a triangle
string-bikini
style top. Very pretty and very revealing. For my size, the top didn't leave too much hanging out of the sides so it was a really great fit, but this is a bikini that you can see through. For those of us who don't wear this type of thing in public, it makes a really sexy bed-room piece! In fact, that's what I like about it. It's unique and you can't deny, it is sexy!
My partner said he couldn't see through the bikini while I was wearing it, but when I looked in the mirror where the light is most harsh, I could see through it. In the sun light, you're able to see everything, but in the shade it leaves a little (and I mean little!) to the imagination.
I get that some don't want to show that much nipple in public, I wouldn't wear it in public, but it's great for the pool at home and sun bathing... as long as the kids aren't home! Lol. I had a pretty neat idea for wearing this in public without seeing through it. There is a solution because let's face it, this baby is too cute to not wear out. While the solution won't keep the bikini bottoms from revealling your entire cheeks, it will work for the top and you can always pair this with a solid black bikini bottom for a less revealling suit.
For a simple fix:
With just a small piece of black spandex fabric (or red if you choose) you can trace the triangle onto the black spandex making sure it is a bit bigger. Then sew the solid black fabric to the inside of the triangle top. Cut off excess edges of fabric then you have a non-see through, but still sexy swim top!
What I like about this easy fix is that you can easily take a pair of scissors or a seam ripper and carefully 'un-stitch' the solid black fabric from the triangles to turn it back into it's original transparent bikini top. If you're careful with the scissors they will work without leaving any damage to the suit. Or you could always wear band-aids over your nipples! LOL. Kidding, but a pair of cute pasties (I used silver butterflies) over your nipples looks really cute with the swim suit!
The triangles are like most string
bikinis
, adjustable. You can slide them wide for more coverage or slide them together for a narrow coverage. This will cover only the nipples.
As for what material this suit is made of, I am unsure, but I can say it's very good quality and holds up wonderfully. It's very soft and comfortable to wear. There's not irritating strings that dig in and the fabric feels nice on the skin. To be on the safe side, I hand wash it. The strings are sturdy and reliable. They're silky and smooth.
The swim suit ties halter-style around the neck and around the back allowing you to adjust to your perfect fit. There are 2 small gold circular accents that attach the top point of both triangles to the strings. These are comfortable, I couldn't feel them, but they add an extra touch of pretty and sophistication to the suit.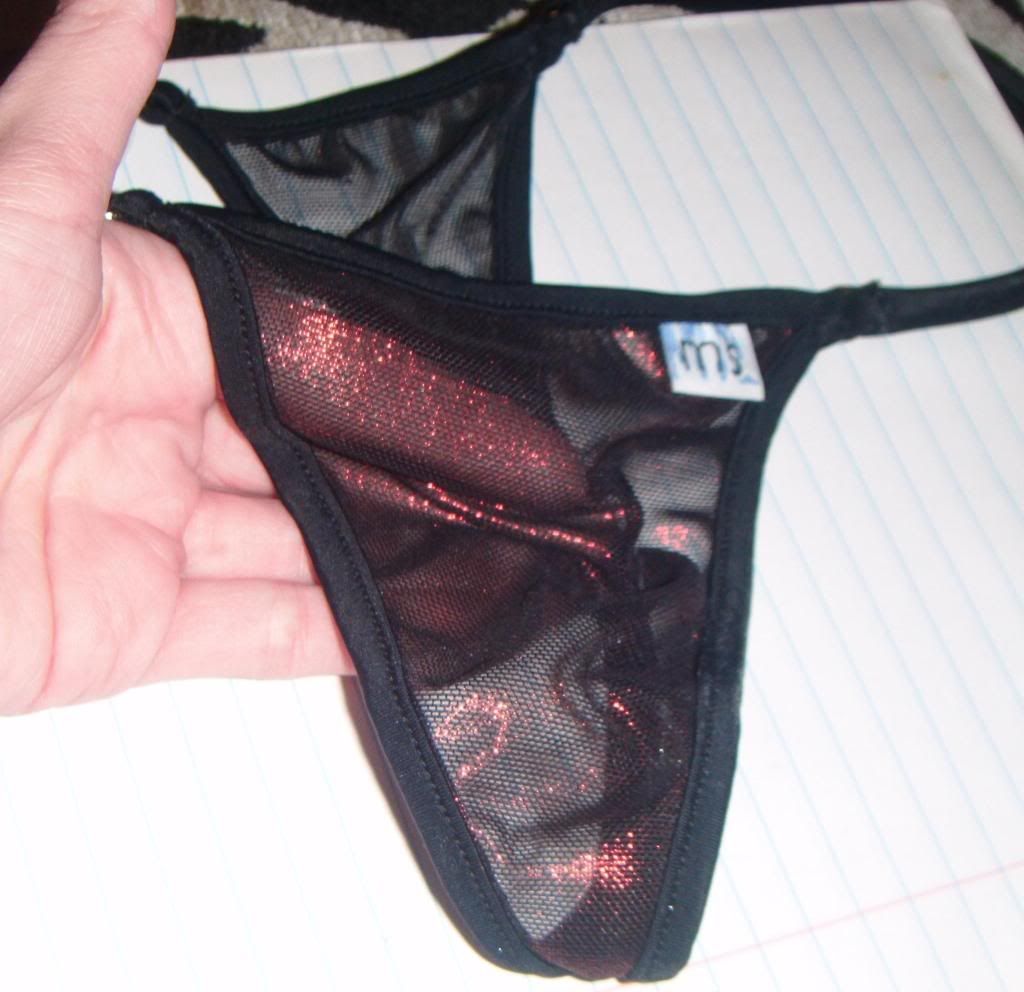 The photo above is of the bottom part of the bikini. It matches the top and is a thong. I think they're very sexy and unique and they double as an awesome pair of panties! Most swim suits won't wear well for panties, but these actually look more like panties than a swim suit so if you do choose to pair the top with a solid black bottom rather than thong, then these won't be totally useless, just throw em' in your underwear drawer. I love the comfort of
Malibu String's Bikinis
. They're some of the cutest, most unique suits I've ever saw and I LOVE them. Love is an understatement!
The sparkly red color really makes the suit here. It's unique, sparkly and hot! What could be better?
The bottoms have a tiny little tag on the inside and out. I didn't even cut mine out because they're barely noticable. The inside tag doesn't show while wearing. It says "M" for medium size. The outside tag says "MS" for the lovely Malibu Strings. I like that little tag.
Like the top, the thong bottom also has 4 pretty circular gold accents on the hip area of the strings and two on the back on each side of triagnle thong. Veyr pretty and an extremely well fitting suit! I was surprised that it fit my strangely built body so well. Usually thongs, unless they're specifically made for short crotched people, are saggy and that's not pretty. These fit wonderfully and looked great. On certain days, I'm not always comfortable in such revealing things, but this is a swim suit that I feel good in all the time. I love how the strings don't dig in causing irritation and rolls. Lol. It's a smooth, pretty fit.
While I won't wear this in public, I will wear it with my simple fix and a pair of solid, full coverage bottoms. At home, I'm comfortable wearing it without the extra fixes. It's just too cute not to!
Like this swim suit? Then don't forget to look for my up coming reviews on the other suits! There's one that is exactly the swim suit I've wanted and looked for for several years! Yes, I'm super excited over these swim suits! I couldn't have found a better fit for my personality! Now, while you're anxiously awaiting to read about my next few (mind blowingly gorgeous) swim suits, go check
Malibu Strings
out! They do sale swimwear with more coverage. They have thongs and other styles available as well as full (or nearly full) coverage!